Canoeing in Big Thicket National Reserve
Sept 15th – 17th, 2023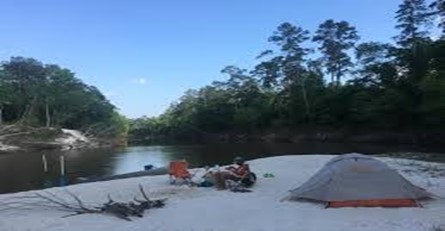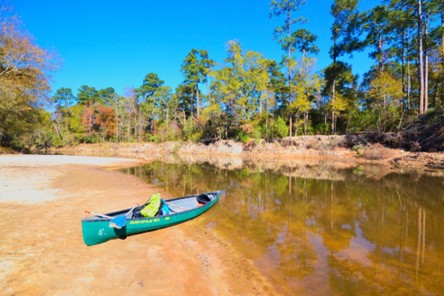 I. Campout Theme:
Overnighter Canoe Trip in the Big Thicket National Wilderness.
II. Departure Time and Place:
We will meet and depart from the church.
III. Camp
We will camp Friday night only at Village Creek State Park. We have the Youth Group Camping Area. The address is: 8854 Park Road 74, Lumberton, TX 77657. On Saturday night, we will camp on a sandbar in Village Creek.
IV. Transportation:
We will travel by car for this campout.
V. Return Time:
Our goal is to depart Village Creek by 11:30 A.M. We should return to the Richardson area around 4:45 p.m. Scouts should bring money for lunch for drive home.
VI. Food:
Patrols / Scouts should bring their own breakfast bars for Saturday Morning. The troop will provide Saturday lunch, Saturday supper and Sunday breakfast.
VII. Personal Equipment List:
Necessary Gear:

***35-50 LITER DRY BAG FOR ALL GEAR FOR CANOE (PLUS ONE MORE FOR TENT—ONE FOR EVERY 2 SCOUTS)
***BAG TO LEAVE IN CAR WITH CLASS A UNIFORM/UNDERWEAR FOR TRIP HOME
Class A uniform
1Pair Long Pants (hiking pants that dry easily)
1 Long Sleeved Shirt (1 THAT WILL GET WET—WINTER CAMP SHIRT)
1 Short Sleeved Shirt
Raingear
Spork or spoon
Closed Toed water shoes (Sandals, draining hiking books, slip on water shoes, etc.)
Full brim hat (better sun protection)
2 sets of underwear
2 pairs of socks (One that can get wet)
Lite Sleeping bag, liner or sheet (will be 90 during day and 67 at night)
Sleeping pad (inflatable or go without—sand is comfortable)
Flashlight/Headlamp with extra batteries
TWO 1 liter Personal Water bottle
Climbing Carabiner and rope to tie bottle to canoe thwarts
Trash bags
Personal first aid kit
Towel
SUNSCREEN!
Pack extra clothes in Ziploc bags.
Bring 4-gallon size Ziploc bags to put sand in for tents (explained below)
Recommended Gear:

Extra pair of shoes (lightweight)
Sunglasses
Toiletries/Personal hygiene items
Optional Gear:

Camera
Camp pillow
Crazy creek chair for canoe seat (can use as a sleeping pad too if you do not have an inflatable one). Seats with a metal frame (or rigid frame) or that strap onto the canoe seat are not allowed.
VIII. Cost:
There is no fee for this campout. The Troop will cover the cost of the meals and outfitter.
IX. Weather:
Highs in the low 90s and lows in the mid to upper 60's. Humid!
X. Schedule:
Friday, September 15, 2023
6:30 p.m. – Departure
11:15 p.m. – Arrive at Village Creek State Park
12:30 a.m. – Lights out
Saturday, September 16, 2023 (Sunrise 7:11, Sunset 7:30)
7:00 – Reveille
8:00 a.m. – Depart for Village Creek
10:00-3:00–Paddling
6:00 p.m. – Dinner
8:00 p.m. – Campfire
8:15 p.m. – Campfire program
10:00 p.m. – Lights out
Sunday, September 17, 2023
6:00 – Reveille
9:30 a.m. – Off River
11:30 a.m. – Depart for Home
4:45—Arrive Home
XI. Miscellaneous Notes:
TRAVEL TIME
2 hrs 35 Min. – 170 miles to Camp Tahuaya. 2603 Tahuaya Road, Belton, TX 76513
2 hrs. – 110 miles to Shanty Tubes 12100 FM 306, Canyon Lake, Texas 78133
NEAREST HOSPITAL
Camp Tahuaya: Baylor Scott and White Medical Center, 2401 S 31st St, Temple, TX (254) 724-2111
Tubing: Christus Santa Rosa Hospital, 600 N Union Ave, New Braunfels, TX (830) 606-9111
NOTES ON TRIP
TRAVEL TIME
4 hrs 45 minutes–300 miles to Village Creek State Park
NEAREST HOSPITAL
Medical Center of Southeast Texas, Beaumont. 6025 Metropolitan Dr, Beaumont, TX 7 7706. 409-617-7700.
ADDITIONAL NOTES
WE WILL NOT HAVE THE TROOP TRAILER FOR THIS TRIP.
This will be a great canoe trip. We will be paddling on Village Creek and camping on a sandbar. The Scouts will paddle about 10 miles in total between Saturday and Sunday. This will fulfill requirement 9b4 for Camping Merit Badge.
The basic plan is that we will camp at Village Creek State Park in the group camping area on Friday night. We will get up early and pack up quickly on Saturday morning and meet the outfitter for departure. We will park the cars at an appropriate place and get started as soon as we have all the cars staged. We will paddle to a sand bar where we will camp. On Sunday morning, we will get up early, pack up, and canoe to the takeout point. After gathering our gear and stowing canoes, we will head back to Plano.
FOOD: Scouts should bring their own breakfast bars for Saturday morning. Scouts should also bring their own bag lunch for Saturday. We will put these in coolers at departure on Friday night. Dinner on Saturday and breakfast on Sunday will be provided by the Troop. If you have any food allergies, please contact John Stoker at jstoker@huntoil.com even if you indicated you had allergies when you signed up for the campout. The Troop will provide the food for Sat lunch, Dinner and Sun Breakfast at Troop expense. We are traveling light.
GEAR CARRYING: All personal gear for each person should be placed in one 35-40L sized dry bag. These are available at Hikerdirect.com or at REI. These are what we use at Northern Tier to protect our gear. We do not have a lot of space so all personal gear (other than a water bottle) must fit in this bag. For anyone with a tent, use a second 35-40L sized bag for your tent. Everyone should use small backpacking sized tents for this campout.
All of your clothes should be packed in Ziploc bags. If you lay on them as you are closing them, you can get all the air out and help your clothes to pack down smaller.
CANOEING CLOTHES: You want to wear clothes that can get wet and will dry easily. This includes your underwear so wear synthetic underwear if you have it. Suggestions for clothing are as follows:
Hat: A full brimmed hat is good to protect your head from the sun. The sun reflects off the water and makes it easier for you to get sunburned.
Shirt: If you will be religious about sunscreen, then wear a short sleeve shirt that dries quickly—no cotton. I don't like sunscreen and will be wearing one of these: https://backwoods.com/free-fly-men-s-bamboo-lightweight-hoody.html These have a hood and protect my neck and arms from the sun. A long sleeve winter camp shirt is one that will dry quickly and will protect your arms from the sun.
Pants: If you will be religious about sunscreen, wear a swimsuit or shorts. Again, I don't like sunscreen. I will be wearing quick drying zipoff hiking pants and synthetic underwear.
Feet: If you will be religious about sunscreen, you may go barefoot with closed toed sandals or water shoes. I hate sunscreen and I'll be wearing seal socks (neoprene socks). You should wear closed toed sandals or water shoes. You can leave your tennis shoes in the car you came in during the canoe trip and just use the sandals or water shoes. If you want to put a pair of shoes that are dry to wear in camp, that is fine. Crocs are lightweight. If you have been to Northern Tier and want to wear your self-draining hiking boots, you may do so. However, there is no reason to do so and those are likely a lot less comfortable than sandals.
Hands: A pair of paddling gloves will reduce the potential for blisters on your hands and protect them from the sun.
TENTS: We will not have the Troop trailer for this campout. If you do not have your own small tent (backpacking size), you will need to check one out from Mr. Baker at the meeting prior to the campout. You should set up the tent completely to be sure the fly is the right size (we got some bad ones from the manufacturer) and the poles are there. YOU SHOULD NOT TAKE ANY STAKES. You will need to have a dry bag to protect your tent. Car Patrols should pair up and only one of them needs to have a dry bag for the tent.
We will be camping on a sandbar. The sand will be loose (unlike white sands where the sand was pretty tight). Your tent stakes will be next to useless. Each Scout should bring four gallon sized Ziploc bags. These can be filled with sand once we arrive at the campsite and can be placed in each corner of the tent to weigh down the tent. Your gear likely is not heavy enough to prevent the tent from blowing away if we get a big wind and you are not in the tent. Each scout should bring bags so you can put multiple bags in each corner.
SLEEPING: Those that have been to Northern Tier or Philmont will most likely have an inflatable sleeping pad about the size of two fists. This is what you want to use for a sleeping pad for this campout. If you do not have a compact, inflatable sleeping pad, then you will likely have to live with sleeping on the floor of the tent with sand underneath (which is actually fairly comfortable as evidenced by the number of people who sleep on the sand on the beach). There is not space to bring large sleeping pads in the canoes.
Also, the low should be around 56. Therefore, you do not need a heavy sleeping bag. This should give you plenty of room for your gear in the dry bag. When we go to Northern Tier, we fit all our clothes plus a 30-degree sleeping bag in those dry bags.
CANOEING: Per BSA regulations, everyone must wear a life jacket. If you have a favorite life jacket, you may bring it. Otherwise, life jackets will be provided. You must pass the BSA swim test to operate a canoe. If you do not pass the test, you may only ride in a canoe with an adult that has passed the test. This is true for adults as well.
Because we had a problem with Scouts missing the take-out point on our last river outing, we will have one adult in the front and one in the rear and all other boats will be required to stay between them.
We plan to have some canoe instruction prior to the trip so that those who have not canoed before at least have some basic information about operating a canoe properly. Note that there are no rapids where we are canoeing. It is flat water.
We are using an outfitter called Big Thicket Outfitters. The phone number is 409-786-1884. www.bigthicketoutfitters.com Visit their photo gallery to get some idea of the look of the place.
THE WAY HOME: Bring a garbage bag to put your wet clothes and shoes into and put those into your dry bag. We don't want wet clothes all over the cars.
THE BIG THICKET: The Big Thicket is the name given to a somewhat imprecise region of a heavily forested area in Southeast Texas in the United States. It is a highly biodiverse area that has been described as "America's Ark" and the "Biological Crossroads of North America". The National Park Service established the Big Thicket National Preserve (BTNP) within the region in 1974 and it is recognized as a biosphere reserve by UNESCO. Although the diversity of animals in the area is high, with over 500 vertebrates, it is the complex mosaic of ecosystems and plant diversity that is particularly remarkable. Biologists have identified at least eight, and up to eleven, ecosystems in the Big Thicket area. More than 160 species of trees and shrubs, 800 herbs and vines, and 340 types of grasses are known to occur in the Big Thicket, and estimates as high as over 1000 flowering plant species and 200 trees and shrubs have been made, plus ferns, carnivorous plants, and more. The Big Thicket has historically been the densest forest region in Texas. It features carnivorous plants among the wide variety of plants. There are many cypress trees and swampy areas.