Guadalupe River Tubing Campout
May 19th – 21st, 2023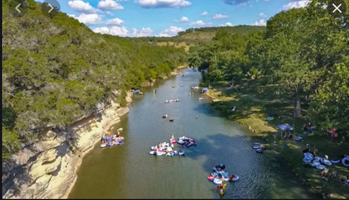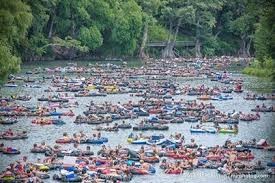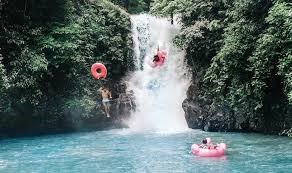 I. Campout Theme:
Tubing on Guadalupe River, Canyon Lake, Texas.
II. Departure Time and Place:
Meet at church at 6:00 p.m. on Friday, May 19th, 2023. Depart at 6:30 p.m. Sharp.
III. Camp
We will camp at Camp Tahuaya. 2603 Tahuaya Road, Belton, TX 76513 (Campsite Tonkawa)
IV. Transportation:
We will travel by car for this campout.
V. Return Time:
Our goal is to depart Camp Tahuaya by 8:30 a.m. We should return to local area around 11:15 a.m..
VI. Food:
Scouts should eat before departing on Friday. Patrols / Scouts should prepare a quick hot breakfast, trail lunch which can be prepared at the tubing facility, cooked dinner, and getaway breakfast. There will be a place to have lunch at the tubing location as well coolers can be left in the vehicles.
VII. Personal Equipment List:
Necessary Gear:
Class A uniform
1 Pair Long Pants
1 Pair Shorts
1 Short Sleeved Shirt
Light Jacket
Raingear
Swimsuit/water shirt
Hiking boots
Water shoes
Troop hat
2 pairs of socks and 2 sets of underwear
Sleeping bag (light)
Sleeping pad
Flashlight/Headlamp with extra batteries
1 liter or equal Personal Water bottle
Mess kit
Trash bags
Personal first aid kit
Towel
Recommended Gear:
Sunglasses
Toiletries/Personal hygiene items
Sunscreen!!!
Optional Gear:
Camp stool or camp chair
Lip Balm
Camera
VIII. Cost:
There is no cost for this campout.
IX. Weather:
Highs in the upper 80s and lows in the mid 60s.
X. Schedule:
Friday, May 19, 2023
6:00 Meet at CCPC
6:30 Departure from CCPC Church
9:15 Arrive at Camp Tahuaya
10:30 Lights out
Saturday, May 20, 2023 (Sunrise 6:48, Sunset 8:12)
7:00—Reveille
8:30—Depart for Shanty Tubes
10:00—Arrive at Shanty Tubes
10:00-3:00–Tubing
4:00—Return to Camp Lost Pines
5:30 – Dinner
8:00–Campfire Program
10:00–Lights out
Sunday, May 21, 2023
7:00 – Reveille
8:00 – Scouts own service.
8:30–Depart for home.
11:15–Arrive home.
XI. Miscellaneous Notes:
TRAVEL TIME
2 hrs 35 Min. – 170 miles to Camp Tahuaya. 2603 Tahuaya Road, Belton, TX 76513
2 hrs. – 110 miles to Shanty Tubes 12100 FM 306, Canyon Lake, Texas 78133
NEAREST HOSPITAL
Camp Tahuaya: Baylor Scott and White Medical Center, 2401 S 31st St, Temple, TX (254) 724-2111
Tubing: Christus Santa Rosa Hospital, 600 N Union Ave, New Braunfels, TX (830) 606-9111
NOTES ON TRIP
One of the best places to go tubing anywhere in the United States is the Guadalupe River in Canyon Lake, Texas. A section of this river that is heavily tubed is called the Horseshoe. The beauty of this section of river is that when you get done, you can just walk a few blocks and start over again. A map is located below: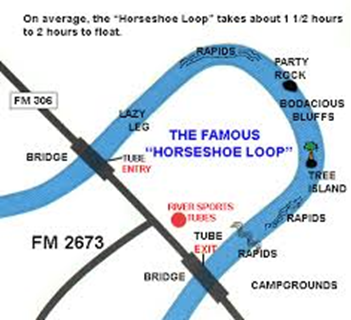 We will be going to Shanty Tubes at the following address:
12100 FM 306
Canyon Lake, Texas 78133
(830) 964-3990

They are located right near the Horseshoe. Note that the number of life jackets is limited. If you own a life jacket, please bring it along.