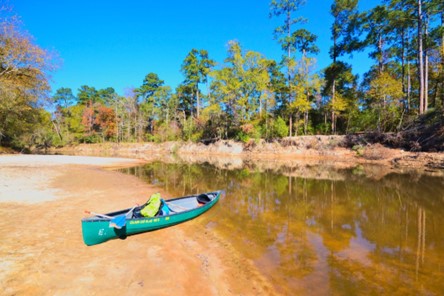 2023 September Campout – Canoeing the Big Thicket National Preserve
When: Sept 15th -17th, 2023
Where: Village Creek State Park, , Lumberton, TX
SIGN UP NOW REGISTRATION CLOSES: Sept 3, 11:30pm
The national Council announced an update to the Youth Protection guidelines for "Adult Supervision" that will go into effect September 1, 2023.  In short, the "72-hour rule" is going away and any adult that is staying overnight in connection with a Scouting activity must be registered in a qualified unit position such as Committee Member (just a Merit Badge Counselor will not count).
This will be a great canoe trip.  We will be paddling on Village Creek and camping on a sandbar.  The Scouts will paddle about 10 miles in total between Saturday and Sunday.  This will fulfill requirement 9b4 for Camping Merit Badge.
The basic plan is that we will camp at Village Creek State Park in the group camping area on Friday night.  We will get up early and pack up quickly on Saturday morning and meet the outfitter for departure.  We will park the cars at an appropriate place and get started as soon as we have all the cars staged.  We will paddle to a sand bar where we will camp.  On Sunday morning, we will get up early, pack up, and canoe to the takeout point.  After gathering our gear and stowing canoes, we will head back to Plano.