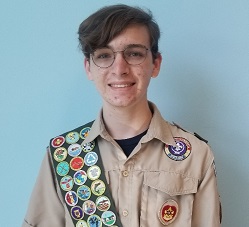 Request from Eagle Scout – Chad M.
I have been interning with the Holifield Science Learning Center to take care of their animals this summer. They have a large native meadow next to their facility which is crucial to native animals and plants however I have noticed some invasives establishing such as Johnson grass. I have talked with their curriculum manager, Mr. Taylor, about removal of these invasives and he agrees that the best method is to remove them by hand. Hand removal of these invasives would take many people so I would like to offer the opportunity for scouts to learn and gain volunteer or conservation hours through helping remove these plants.
I am planning a conservation project on July 25th to help remove these plants. I will provide water, food, and some tools, however scouts will need to bring long pants, mid-high boots (low cut not recommended) and a water wicking shirt. I plan to start at around 7:30am and finish by 11:30am, so we can avoid the summer heat. Scouts can earn up to 4 conservation or volunteer hours. I do have limited amounts of hand shovels so dependent on the amount of scouts I will need a few more.
Please consider this opportunity
Chad M.